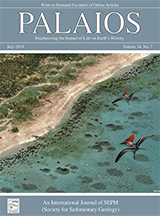 It's been a strange year – we know. All aspects of each of our days were affected by COVID-19, including all things publishing over at SEPM. Despite some logistical challenges with our new work-from-home mentality, PALAIOS has had some great work written, edited and shared this year. We look forward to seeing even more research in 2021!
What exactly does PALAIOS cover?
Led by Managing Editor Kathleen Huber and Coeditors Martin Zuschin and Patrick Orr, PALAIOS is a monthly journal, founded in 1986, dedicated to emphasizing the impact of life on Earth's history as recorded in the paleontological and sedimentological records. PALAIOS disseminates information to an international spectrum of geologists and biologists interested in a broad range of topics, including, but not limited to, biogeochemistry, ichnology, paleoclimatology, paleoecology, paleoceanography, sedimentology, stratigraphy, geomicrobiology, paleobiogeochemistry and astrobiology.
PALAIOS publishes original papers that emphasize using paleontology to answer important geological and biological questions that further our understanding of Earth history. Accordingly, manuscripts whose subject matter and conclusions have broader geologic implications are much more likely to be selected for publication. SEPM supports PALAIOS to publish innovative research on all aspects of past and present life from which geological, biological, chemical, and atmospheric processes can be deciphered and applied to finding solutions to past and future geological and paleontological problems.
This year, our authors reported compelling studies ranging from Ediacara biota of South Australia to Holocene microbiolites from Bora Bora and included those based on 'old school' field studies to emerging methods such as neural network training for fossil identification. Thank you to all of our authors for another excellent year of research appearing on the pages of PALAIOS!
Additional issues this past year include:
Want to make this list of favorite published pieces next year?
PALAIOS accepts contributions such as:
Research Articles: Papers dealing with research results in areas of interest to PALAIOS.
Spotlights: By invitation, Spotlight articles highlight a topic that is of interest to PALAIOS. Please contact the editorial office if you have an idea for a Spotlight.
Book Reviews, and Comment and Reply: Solicited by the editors, these are published exclusively online.
Each of our submissions is diligently edited by our community of Associate Editors and the peer-review process. Thank you to each of you, and especially the PALAIOS Associate Editors for rising to the many challenges of pandemic restrictions in the workplace--including a move to online teaching--along with transitioning to a new document management platform. The success of this journal would not be possible without their support!
Want to read PALAIOS? Check out our subscriptions, past issues and more online, or contact our editorial team.