Event List
SEPM Deepwater Research Group Forum 2021
Begins : Tuesday, November 9, 2021 at 1:00 PM
Ends : Tuesday, November 9, 2021 at 4:00 PM
Duration : 3 hours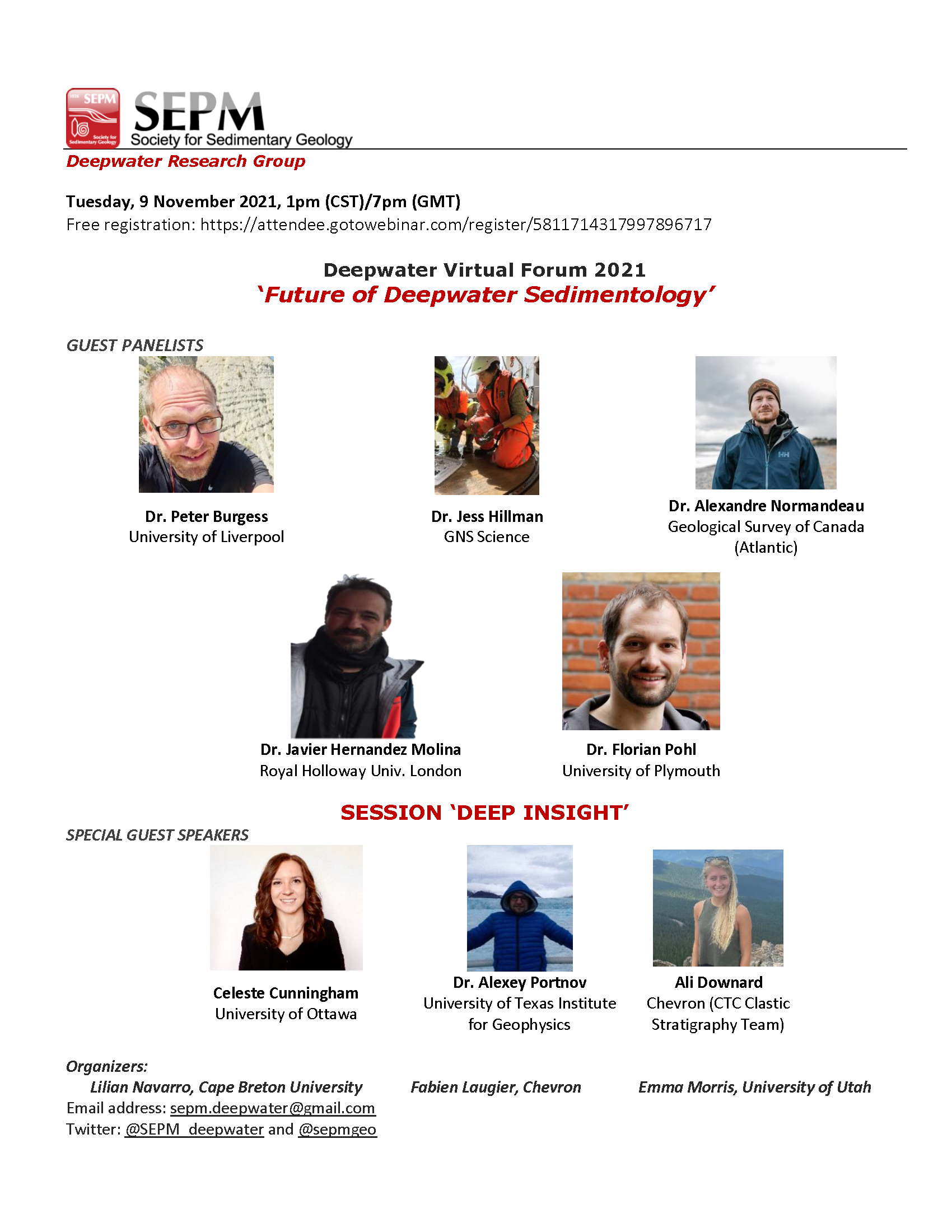 SEPM Deepwater Research Group Forum 2021
Tuesday, November 9, 2021
1 - 4 PM CDT
English
Register Now: https://register.gotowebinar.com/register/5811714317997896717
Learn more: https://sepm.org/deepwater-deposition
Our program this year will consist of a panel discussion on the:
"Future of Deepwater Sedimentology"
Confirmed Panelists and Guest Speakers (alphabetically):
* Dr. Peter Burguess (University of Liverpool)
* Celeste Cunningham, PhD (University of Ottawa)
* Ali Downard, MSc (Chevron - CTC Clastic Stratigraphy Team)
* Dr. Javier Hernandez Molina (Royal Holloway University of London)
* Dr. Jess Hillman (GNS Science)
* Dr. Alexandre Normandeau (Geological Survey of Canada - Atlantic)
* Dr. Florian Pohl (University of Plymouth)
* Dr. Alexey Portnov (University of Texas Institute for Geophysics)
The discussion will focus on:
Bottom currents processes and products in the deep marine environments
Carbon burial in deep-sea sediments
Deepwater gas Hydrates
Microplastics and Pollutants in Deep-sea sediments
Modern marine Geohazards
Recent advances and applications using machine learning and quantitative analysis in deepwater deposits
The main goals are to promote a lively scientific discussion regarding this exciting theme and subthemes and to facilitate constructive sharing and networking among professionals, researchers and students.
Students and Early Career Researchers are highly encouraged to attend!
Organizers:
| | | |
| --- | --- | --- |
| Fabien Laugier, Chevron | Emma Morris, University of Utah | Lilian Navarro, Cape Breton University |
Email address: sepm.deepwater@gmail.com
Twitter: @SEPM_deepwater and @sepmgeo
*** We are still seeking eager and brave academic and industry researchers and students, who are actively working in the following areas:
Carbon Capture, Utilization and Storage (CCUS) in deep-sea sediments
Critical minerals within deepwater sedimentary deposits
Deep sea geothermal energy
If you would like to participate in the panel, please contact us.