The Bouma In-Person Conference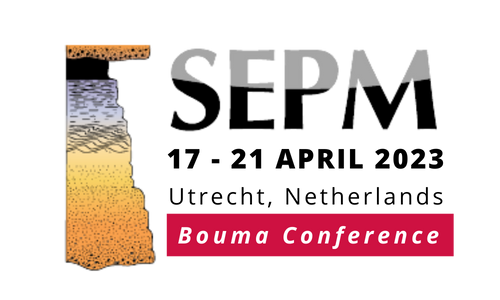 1st In-Person Bouma Deep Water Geoscience Conference - Utrecht, Netherlands,

17-21 April 2023



To carry on the work and interest in Deep Water Geoscience under the Arnold Bouma name is a great way to keep pushing the boundaries of our knowledge in this area. Funding to help students and early career researchers attend and present at this meeting will come from the Arnold and Lieneke Bouma Fund at the SEPM Foundation.
SPONSORSHIPS TO SUPPORT THIS CONFERENCE ---- PLEASE DOWNLOAD THE Bouma2023SponsorshipForm.pdf
Consider supporting this conference or sending it along to the appropriate person in your organization - Thanks.
The main themes for this meeting are:
Theme 1 –Mud matters; the influence of clay and silt on depositional processes, deposits, and architecture.
Theme 2 –Process stratigraphy; process controls on deposits and architecture of channels, lobes, and transition zones.
Theme 3 –Modern environments; modern marine and lacustrine data sets of gravity flows, bottom currents, and their deposits.
Theme 4 –Deep flux; submarine canyons as conduits for fluxes of sediment, organic carbon, pollutants, and nutrients to deep water basins.
Theme 5 –Modelling; new approaches in numerical and physical modelling of deep water sedimentation.
Theme 6–Petroleum and beyond; applied uses of deep water sedimentology.
General Conference Activities
Icebreaker Tuesday April 18, 2023
Plenary sessions Wednesday April 19 - Friday 21
Flume work shop Monday & Tuesday April 17 and 18
Core workshop under construction

Tentative Field Trips
Pre-conference field trips
Italy Apennines (R. Tinterri et al.) 3 days: Friday 14 – Sunday 16 April
Spain (SE Spain) (K.Kleverlaan et al. ) 3 days: Friday 14 – Sunday 16 April
Post-conference field trips
Peira Cava (Gill Apps a.o.) 3 days: Sunday 23- Tuesday 25
Spain (Pyrenees, Puigdefabregas et al.) : Sunday 23- Tuesday 25

Call for Abstracts ** DEADLINE EXTENDED TO DECEMBER 15TH**
The organizing committee is now accepting abstracts for the 2023 Bouma Conference.
Please complete the Bouma 2023 Abstract Form below and submit it with your abstract. Please send your abstract as a Word document or text file, do NOT send PDF versions. Abstracts should be submitted to Michele Tomlinson at mtomlinson@sepm.org..
---
Questions? Please contact our us for more details.
Organizing Committee
Dr Joris T. Eggenhuisen
Department of Earth Sciences, Faculty of Geosciences
Utrecht University
Utrecht, Netherlands
j.t.eggenhuisen@uu.nl


Dr George Postma
Department of Earth Sciences, Faculty of Geosciences
Utrecht University
Utrecht, Netherlands
G.Postma@uu.nl


Dr Vitor Abreu
ACT GEO
Houston, Texas, USA
vitor@act-geo.com